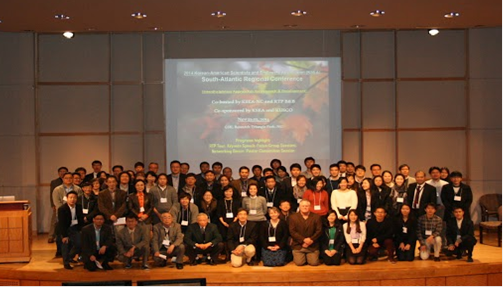 The 5th Annual Korean-American Professionals South Atlantic Regional Conference was held from November 21 to November 22, 2014.  The event was co-hosted by North Carolina Chapter of Korean-American Scientists and Engineers Association (KSEA, www.ksea.org) and Research Triangle Park Bioscience and Biotechnology Meeting (RTP B&B, www.rtpbnb.org).
This year's conference theme was "Interdisciplinary Approach for Research & Development."  The purpose of the meeting was (1) to explore different interdisciplinary approaches in R&D, (2) to broaden the network of Korean scientists and engineers in the area, (3) to encourage cooperation and interactions among different disciplines and (4) to help young scientists and engineers prepare for their future career.  The conference was sponsored by Korea-U.S. Science Cooperation Center (KUSCO, www.kusco.org), KSEA, and GlaxoSmithKline (GSK, www.gsk.com).
On the first day (Nov. 21), thirteen participants visited SAS for a campus tour hosted by Dr. Seungho Huh.  A networking dinner took place at McDaids with a seminar led by Dr. Chris Chul Hong Park (RFHIC US Corp).  The conference on the second day (Nov. 22) was held at GSK.  After a brief introduction of KSEA and RTP B&B, guest speakers Dr. Frank Hoke (GSK), Dr. Alyson Wilson (North Carolina State University), Dr. Jung Sang Kim (Duke University), Dr. Younhee Kim (East Carolina University), and Dr. Paul Kuk Won Chang (Institute of Research of Metatheology) shared their experiences in their interdisciplinary career paths.  After the seminar and panel discussions, "Meet the Professionals" networking lunch was led by different professionals at each table.  In the afternoon, participants presented posters on their interdisciplinary research.  Student groups from Campbell University, Duke University, University of North Carolina at Chapel Hill (UNC), and North Carolina State University (NCSU) gave presentations on different innovative and interdisciplinary projects.  Awards were presented to selected poster presenters and student group presenters.
The conference committee consisted of Dr. Hangsik Moon (RTP B&B president; Syngenta), Dr. Soolyeon Cho (KSEA-NC president; NCSU), Dr. Yongho Joseph Kim (GSK), Dr. Chang Soo Nam (NCSU), Grace Eunjin Joo (GSK) and student volunteers from Campbell University (Chris Kim & Grace Han), Duke University (Linda Kim, Ashley Kwon, Sally Park, Yoon Woo Byun, Jung Min Lee, & Giseok Choi), North Carolina State University (Songnyeon Kim, Sangchul Roh, Seung Beom Seo, Saebitna Oh, Kye Won Wang, Woochul Jung, Soyeon Cha, & Joonmoo Huh) and University of North Carolina at Chapel Hill (Hyojin Kim, Meena Park, Chung Lee, Jenny Jin, Junhan Park, Mina Park, Seung Won Kim & Joseph Kim).