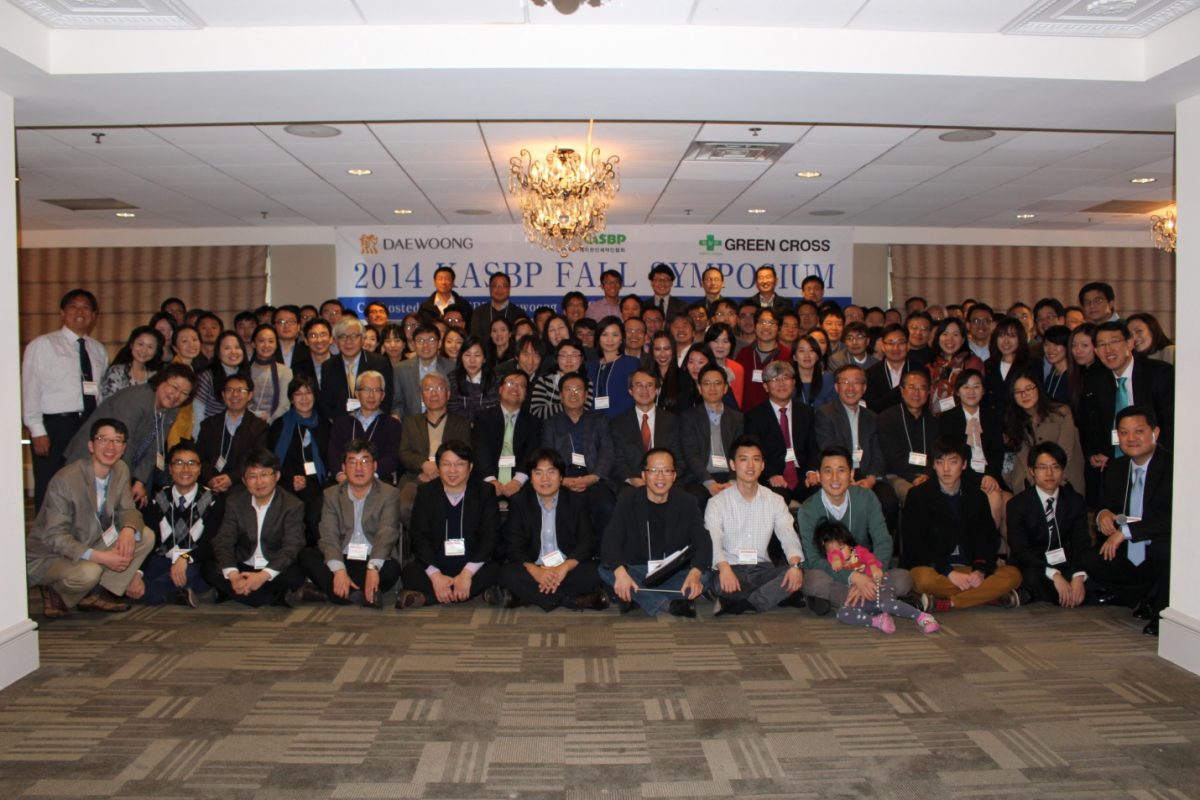 2014 KASBP Fall Symposium was held at Westin Governor Hotel in Morristown, NJ from Nov. 7 to Nov.8, 2014. During two days, about 180 members from US and sponsors and guests from Korea participated the event, and 13 prominent speakers and panels led the discussion showcasing scientific achievement, regulatory trend, and sponsor presentations. Dr. Kinam Park (Purdue University) received this year's KASBP-Daewoong achievement award for his contribution in the field of drug delivery. Also, six (6) academic researchers were awarded fellowship and all participated in short presentations followed by a full poster session.
KASBP would like to thank Daewoong, Green Cross, KUSCO, KSEA, Ildong, Curachem, DGMIF, SK Life Sciences and Lucas & Mercanti, LLP for their generous sponsorships. With devoted sponsorships, the event was highly interactive with extensive scientific discussions.  The general feedback from the speakers, volunteers and attendees were very favourable and all felt sincere appreciation for successfully putting together a productive scientific meeting that provides intellectually enriching experience.
The list below illustrates major presentations that were focused on current research/development trend in pharmaceutical industry. Some are common introduction talks for sponsors including Deawoong, Green Cross, KUSCO, KHIDI, and KSEA.
KASBP-Daewoong Award Keynote Speech:
Kinam Park, Ph.D., Purdue University," From Pills to Nanoparticles: The 10X Progress in Drug Delivery Research"
Technical Presentations:
Mooje Sung, Ph.D., Novartis  "Selectivity Challenge in Kinase Drug Discovery"

Byoung Ryu, Ph.D., Bluebird Bio, "Immunotherapies for Cancer"

Larry C. Park, Ph.D., HDI Foundation, "Acceleration Drug Discovery and Advancing Knowledge in Huntington Disease"

Hyungchul Kim, Ph.D., Astra Zeneca, "Role of Preformulation on Biopharmaceutical Evaluation"

Eun-Ju Ryu, Pfizer, Jinhee Park (Novartis), Bokyung M. Kim (Merck),  "Global Pharm Market Today"

Seongkyu Yoon, Ph.D., University of Massachusetts Lowell, "Design space building for control of critical quality attributes of a model monoclonal antibody"

Seong Hoon Jang, Ph.D., Pharmacologist, "Role of Clinical Pharmacology in Antimicrobial and Antifungal Drug Development"
2014 Fall KASBP Fellowship Recipients:
Kimberly H. Kim,, Ph.D., Dana-Farber Cancer Institute, Dept, of Pediatric Oncology, Harvard University, SWI/SNF-mutant cancers depend upon non-catalytic activity of EZH2

Seung Koo Lee, Ph.D., Department of Radiology, Weill Cornell Medical College, In vivo cell fate tracker for stem cell therapy: from live to dead

Min-Sik Kim, Ph.D., McKusick-Nathans Institute of Genetic Medicine, Dept. of Biological Chemistry, Johns Hopkins University School of Medicine, A draft map of the human proteome

Catherine Rhee, Dept. of Molecular Biosciences, University of Texas at Austin, Arid3a is essential to execution of the first cell fate decision via direct embryonic and extraembryonic transcriptional regulation

Ji-Seon Seo, Ph.D., Laboratory of Molecular and Cellular Neuroscience, The Rockefeller University, The role of p11: A cell type-specific regulation of depression

Sehyun Kim, Ph.D., NYU Medical Center Cancer Institute, New York University, Nek2-dependent activation of Kif24 in the suppression of primary cilia formation and breast cancer development