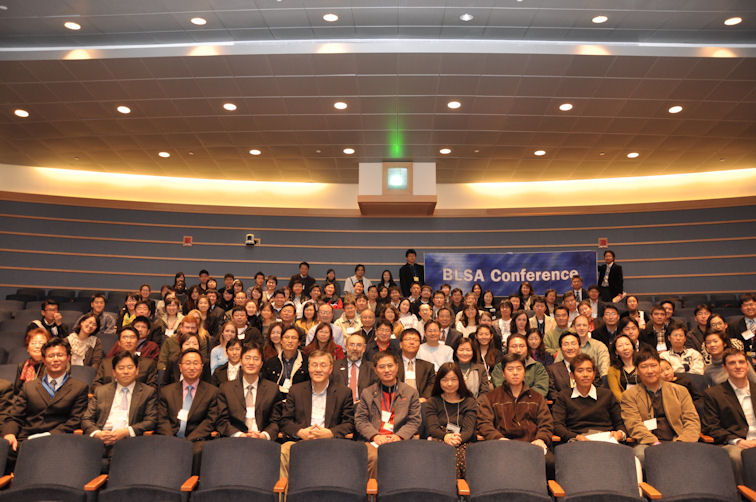 The Baltimore Life Scientists Association (BLSA, http://www.blsa.or.kr) was established in April 2003 by a group of Korean biomedical scientists who belong to prominent research institutions in the Baltimore, Maryland area including Johns Hopkins University (JHU), University of Maryland (UM), and the National Institute of Health (NIH). BLSA has provided highly-interactive scientific seminars and social networking for non-members as well as BLSA members and sought to foster exchange of scientific information among scientists in USA and South Korea. Currently BLSA has about 100 active members and holds monthly research meetings/seminars, biannual outside activities and annual conference.
The 4th BLSA annual conference was held on November 20th at The Albert H. Owens Auditorium, School of Medicine, Johns Hopkins University, Baltimore, Maryland. Participants were more 190 scientists from both South Korea and USA. Entitled with "Stem Cells: Past, Present and Future", the 4th BLSA conference had five lectures of the internationally-renowned scholars; In-Hyun Park, Ph.D. (Yale University), Young-Sup Yoon, M.D., Ph.D. (Emory University), Ki-Bum Lee, Ph.D. (Rutgers University), Hongjun Song, Ph.D. (Johns Hopkins University), and Kwang-Soo Kim, Ph.D.(Harvard University). Invited speakers covered a variety of stem cell research fields from neuroscience to cardiology, from biology to nanotechnology, and from animal stem cells to induced pluripotent stem cells (iPSC). In addition, there were the talk of career development for graduate students and post-doctoral fellows by Dr. Derek Haseltin who is the director of research career development at the University of Maryland and the poster session at which 29 people presented their cutting-edge research.
The 4th BLSA conference was supported by a number of sponsors including Chungbuk Technopark (CBTP), Incheon Free Economic Zone Authority (IFEZ), Korea-U.S. Science Cooperation Center (KUSCO) and Korean-American Scientists and Engineers Association (KSEA).