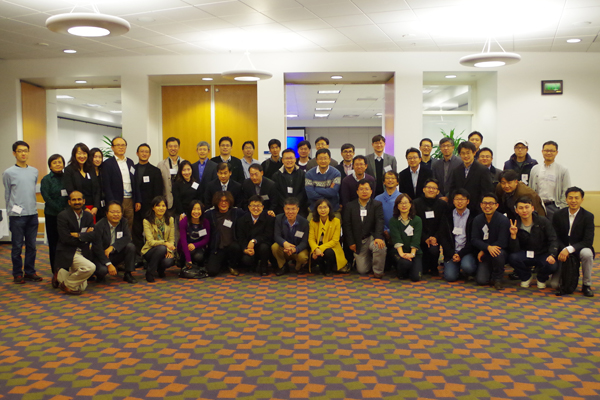 The 14th Korean Computer Scientists and Engineers Association in America (KOCSEA) Technical Symposium was held in San Jose, California from December 13 to 14, 2013. Due to the increased interests for participation, we extended the symposium to two full days from one and half days for the first time.  This year's symposium had over 80 participants. We also hosted a tour of Google on December 12.
This year's program includes 3 keynotes, 25 technical talks, 4 industry talks, 12 lightning talks, 4 student posters, and a panel session.  We awarded the Best Presentation Awards.  The winner for the regular talks was Yejin Choi (Stony Brook University) and the winner for lightening talks was Seon Ho Kim (Universiyt of Southern California).  The panel session was on "Challenges in Big Data and Cloud", moderated by Kyung Dong Ryu (IBM Research).  The panel members included Giri Chukkapalli (Cray, Inc), Sung Taek Chung (Humanvest), Yunho Jeon (CTO, SK planet), Bumsoo Kim (SK hynix memory solutions) and Kyung Hoon Kim (Samsung Techwin).
We awarded a scholarship in memory of the late Prof. Moon-Jung Chung, KOCSEA's former president. We solicited student posters with scholarship applications, and chose top four students to present their posters.  Based on the on-site voting, we chose the winner for each place.  The first place winner was Jonghyun Choi, the second place was Hyunjoon Jung, the third place was Sunyoung Park, and the fourth place was Jung-Woo Sohn.
We had generous supports multiple sponsors. We had three Platinum sponsors (KUSCO, KSEA and Samsung Semiconductor Inc.), three Silver Sponsors (SK planet, SK hynix America, and Samsung Techwin) and three Bronze Sponsors (KOFST, LG Electronics and SK telecom).
The symposium program is available at http://kocseaa.org/symposia/2013/program.